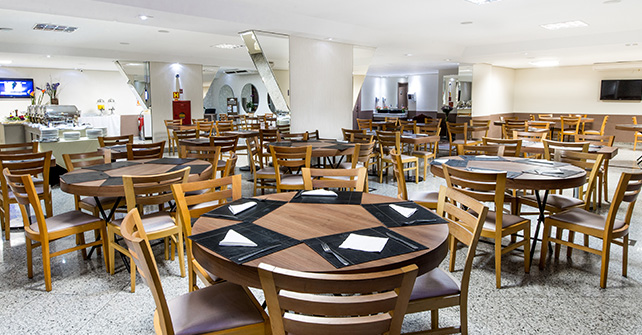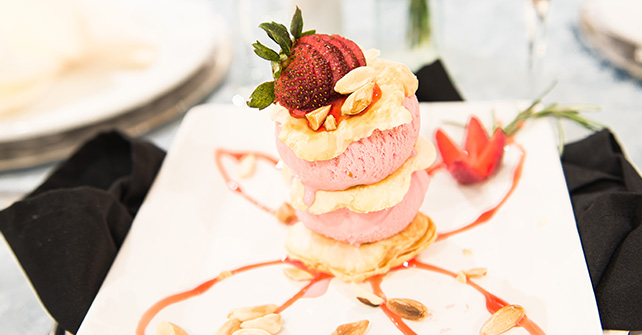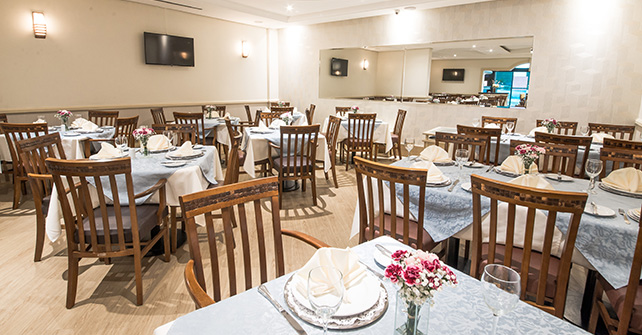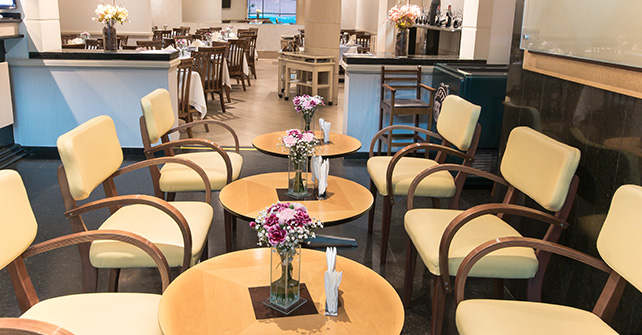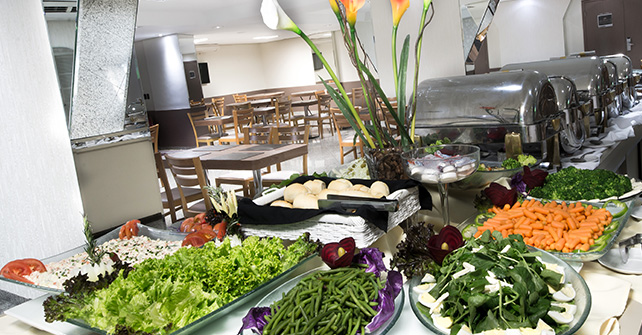 Quality Gastronomy
Staying at the Monaco Convention & Hotel or holding your corporate or social event here you will enjoy an excellent gastronomic experience, in a prime location in the center of Guarulhos and right beside the International Airport.
The hotel's two restaurants and bar offer guests and visitors the best of cuisine and confectionery, both Brazilian and international.
All our food is prepared with dedication and care in the hotel's kitchens and confectionery, by the hotel's excellent catering team.
Monte Carlo Restaurant
If you are looking for a discreet yet sophisticated restaurant for a business lunch or social dinner around Guarulhos City Center, then your best option is the Monte Carlo.
With a quiet and sophisticated environment, of the bistro variety and with excellence of service thanks to the restaurant's à la carte service, this Restaurant stands out for its Mediterranean cuisine, as also the restaurant's wonderful meat dishes, risottos and pasta.
Specialised in international and Mediterranean cuisine, the Restaurant offers guests and visitors a delicious gastronomic experience.
Our restaurant can serve 60 people at the same time, and is open every day for lunch and dinner.
Services
Lunch from 12 noon to 3 p.m. À la carte service with a menu including a variety of salads, broths, and main dishes based on meat and fish, pasta, vegetables, and several garnishes. The icing on the cake is a variety of delicious desserts prepared by our own confectionery team or, if you prefer, fresh fruit.
Dinner from 6 p.m. to 11 p.m. À la carte service with a variety of touches of international and Mediterranean cuisine, and a distinctive wine list, on top of a selection of wonderful desserts.
See more photos below:
---
San Remo Restaurant
A restaurant on modern and spacious premises, this place offers an appetising and nutritious breakfast every day at the Monaco Convention & Hotel.
It holds 150 people and is ideal for social Conventions such as parties in general, birthdays and other get-togethers.
To find out more about our Parties and Conventions services, please click here.
Daily Services:
Breakfast: 6 a.m. to 10 a.m. A full buffet service with a variety of breads, both plain and with fillings, as well as croissants, cakes, jams, cereals, yoghurt, eggs, cheese and an assortment of cold cuts, as well as fresh seasonal fruit. The drinks offered by the hotel include delicious fruit juices, coffee, chocolate and teas.
See more photos below:
---
Monte Carlo Bar
This is a cafeteria and bar situated at the entrance of the Monte Carlo restaurant, an intimate environment which is ideal for a happy hour or for a quick coffee. It is open every day from 12 noon to 11 p.m.
In the afternoon, there is an enjoyable happy hour with beer, wines, soft drinks and natural juices, as well as cocktails made from the best national and international drinks, prepared by the hotel's very own barman. To nibble, we serve a variety of titbits and bar food, such as cold and hot portions and our traditional sandwiches.
See more photos below:
---